Our Admin
2018-02-01
1814
Good quality is the basic requirement to furniture.There are two layers of meanings.First layer is that it is comfotable without any defects.For example,some wooden dining chairs from some factories possibly break after using for three months.Some tables lose the painting if the temperature changes.For our tables and tables, we should avoid such problem from arising.Chairs break is the joint part is not strong enough.Factory want to save time to reduce cost.Talbe lost the painting because temperature in the painting room is not stable or the dry time is not enough.Once problem happen,we should draw lessons from that and accumulate more and more experience to avoid such mistakes.The following wood frame is improved one.It is be much stronger than common strucure in the market.After improving, we have never received any complain about the strucuture.By doing this,acturally we same time and cost.We will not spend time in solving such complaints.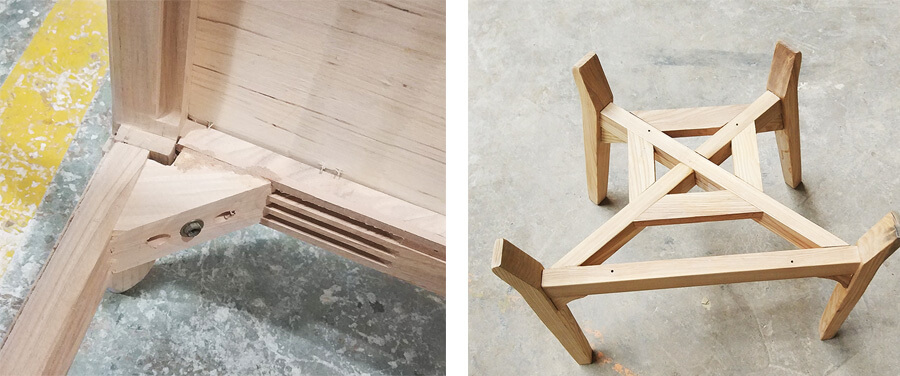 Second layer is the aesthetics requirement.Besides the basic quality,good quality means that factory should pursuit the aesthetic.For example, the proportion of armrest or the depth of the chair,the proportion should make human feel comfortalbe at first sight of the furniture.Second is the color matching,we should consider what fabric or leather match the walnut wood color or the original wood color.What kind of flower pattern can be popular with customers.Until now,our factory has not reach the second level,we just on the way from first level to the second level.
To guarantee the stable quality,we have special team to do that.Frist is the material purchasing,we carefully choose suppliers.And we sign contract with material suppliers.If the material is not good, we will not pay for the material so that supplier try their best to send good material to us.Second is the production procedure,we establish a rule to find and revise the mistake in advance.When the former department hands the half finished department, the latter department is responsible to check the products and should make some standard about what products are not acceptable and what products are acceptable.During weekly meeting, they should discuss this to understand each other clearly.After products finished, the packing department is also important to find if there are faulty products before packing.All these measures is to guarantee that we have stable quality.